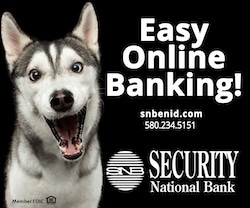 MIGUEL CHAVEZ…Enid High School senior soccer player
Miguel Chavez was born in Mexico and moved to Enid, Oklahoma when he was four years old. He is one of five children–three sisters and a brother. Chavez, 17, is a senior at Enid High School and loves playing soccer. He began playing the game when he was four years old in a recreational league and steadily advanced to more competitive competition. He played winger last season for the Plainsmen and has moved to mid-fielder for his senior season.
Enid High School Plainsmen head soccer coach, Jorge Cabada, called Chavez dynamic and one of the best players in the state. He is one of three team captains and has become a senior leader. Enid assistant coach Angel Chavez (Miguel's cousin) and Coach Cabada moved Miguel to mid-fielder to take advantage of his overall play and high-powered left foot. Chavez is beginning to believe in himself and his abilities and will have a big senior season. Coach Cabada thinks Chavez has a solid chance at playing at the next level.
Chavez likes being the playmaker and likes making assists. But, he remembers scoring the winning goal against Ponca City last season, one of his high school highlights.
Chavez works in the summer for his Dad who has a construction business and for his uncle who has a lawn care business.
I asked Miguel what advice he would give a young soccer player. He talked about the importance of always doing your best and not giving up.
Chavez has used that advice to put himself in a position to play the game at the next level. He is looking to go to Northern Oklahoma College, Tonkawa and continue his education and play soccer.
Look for the Plainsmen to make a run at the Soccer Class 6A playoffs this season. Miguel Chavez's senior leadership and play will be big reasons.