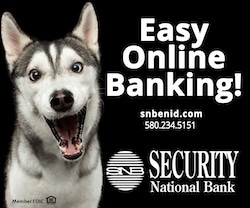 By Derrick Smith
When you are a member of a team, you strive to work hard to be prepared and ready when the time to compete comes. While golf is usually considered an individual sport, in the high school and college ranks there is a team aspect as well. Hayden Johnson says that he has some great teammates that have helped him better his game.
"We always work hard whenever we are on the course," he said. "I would have to say that my teammates are the opponent I enjoy beating the most. For the most part, it is about the bragging rights back at practice. Mason Haley is probably the teammate that I battle with the most. We always make bets and push each other's buttons at practice. We both try to one-up the other as much as possible. Our most underappreciated golfer is definitely Demetrius Farr. He's improved so much from last year. This season he's put in some great scores and even won individually."
As a senior at Enid High School Hayden is a member of the varsity golf team. Away from sports, he is a member of the school's choir and show choir. Once he graduates, he will follow his passion for music at the University of Central Oklahoma.
There have been several people that he has looked up to throughout his life, not just on the golf course. But he says that his biggest influence has come from his dad.
"My dad would have to be the biggest role model in my life," he said. "He has always encouraged me to be the best that I can and to always give one hundred percent. Another person that I look up to is professional golfer Rory McIlroy. He is an outstanding golfer and I enjoy watching him play."
He has put in a lot of hard work and time so that he can become the golfer that he is today. But Hayden has also seen the payoff of that work.
"It has taken a lot of practice, that is for sure as well as a good amount of time and dedication," he stated. "It is helpful too if you can bond with your team. The highlight moment of my career would have to be winning three tournaments and qualifying for state."