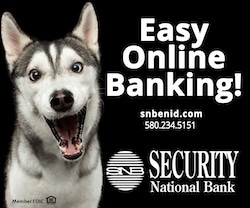 By Jay Hoberecht
Jarely Casillas is a senior at Enid High School. She has been playing soccer since she was eight years old and loves the game because of the preparation it takes, the excitement, the fun and bonding with teammates including a life-long friend in teammate Gissela Ramirez. Casillas plays center-back, a defender position on the Pacer team.
Enid High Pacer soccer coach, Tim Lavoie, talked about Casillas.
"She's a great example to her younger teammates both on and off the field. She has good ball skills from her center-back defender position and commands the back line. She is one of three team captions for us."
Casillas' big highlight so far in soccer was moving from JV her freshman year to Varsity her sophomore season. She remembers it gave her more confidence to learn from older players and get better each practice.
Casillas likes her Composition II class because she likes creating something enjoyable to read. Her latest piece was about loving life like you were dying. She also is involved with EHS Works, a career prep class led by her favorite teacher, Gave Watts. She interns with the YWCA doing marketing posts on their various websites. She wants to pursue a marketing degree in college starting at Northern Oklahoma College-Enid and then Oklahoma State University. She has worked at the Commons as a server for nearly two years. Casillas was asked what advice she would have for a young soccer player.
"Do it and stick with it! It can open up so many opportunities to learn about yourself, make great friends and perhaps play in college. "
Jarely Casillas is a young lady poised to do something special with her life. She offered special thanks to all the people, family and friends that voted for her in the VYPE poll.